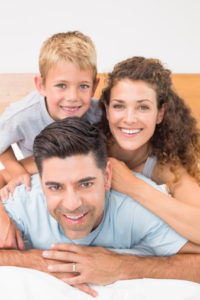 Before you decide what movie to see, you probably read, watch, or listen to a review. Before you start a new diet, you might consult a physician, friend, or family member, but what about when you're looking for a dental practice? Many patients report selecting a dentist's office based almost entirely on factors of convenience (located nearby, open late, etc.), but patients who choose practices based only on convenience are less likely to maintain twice a year dental checkups. If you're ready to find a dental practice you'll look forward to visiting, there are 3 things you need to know first. Then you need to contact Rauchberg Dental Group where we offer comprehensive dentistry for patients of all ages in a state-of-the-art family friendly environment.

What are Your Dental Needs?
Knowing what dental treatments you and your family are likely to need is essential to choosing the right practice. Patients who are in relatively good oral health should choose a practice focused on preventive dentistry to help them maintain their healthy smiles. Those patients with young children should choose a practice that grows with their children's smiles offering dental sealants, fluoride treatments, orthodontics, wisdom tooth extraction, and other services for growing smiles. Whatever your dentistry needs, first seek a practice that offers superior care for your unique circumstances.
What are the Dentist's Qualifications?
Like any other professional, not all dentists are equally committed to education and training. Choosing a dentist who demonstrates a dedication to lifelong learning and successful completion of services is key. Explore dental practice websites to find out about the dentist's education, read reviews, and try to find before and after photos of the dentist's advanced cosmetic or restorative services.
What is the Practice Like?
A skilled dentist who offers services for the whole family still may not be the right option. If the office is sterile, the staff is inattentive, and the dentist swoops through the room hovering momentarily like a helicopter, even the highest quality dentistry services fall short. Take a few moments to read reviews from patients, take a virtual office tour if one is available, or better yet, give the practice a call. The staff at any dentistry practice would be happy to help you make a decision about your dental care.
Contact Your Parsippany Family Dentist
If you have questions or you're ready to schedule a dental checkup, contact the skilled dentist and team at Rauchberg Dental Group. We're happy to help anyway we can, and we look forward to seeing you soon!