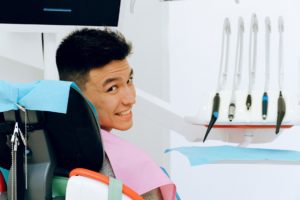 Believe it or not, the new year is right around the corner which means your insurance benefits are about to be reinstated. Although you have all year to use them before they expire, it's best to schedule your next dental checkup and cleaning early in the year. Here are 4 reasons to visit your dentist right after the holidays.
1. Dental Insurance is an Investment
By paying your monthly premiums, you're making an investment in your smile. Your insurance policy offers comprehensive coverage that's designed to keep your teeth and gums healthy through a preventive approach. Routine appointments allow your dentist to keep your smile healthy to lessen the likeliness of needing a costly treatment down the road. Every $1 spent on prevention can save you as much as $50 on restorative care. Visiting your dentist early will help reduce your overall oral health expenses throughout the year.
2. Maximize Your Dental Benefits
Besides preventive care, your coverage can also be used to help offset the fees of restorative treatments. After paying your deductible, you're given an annual allowance to use toward the cost of the procedures. At the end of the year, your insurance benefits will expire. You aren't reimbursed for anything you don't use, and nothing carries over for accumulation. On average, less than 3% of Americans meet or exceed their annual allowance. Scheduling an appointment within the first couple of months into the year gives you more time to use your benefits before they expire to make the most of your monthly investment.
3. Prevent Dental Emergencies
A regular dental cleaning and checkup allow your dentist to monitor your oral health to detect concerning areas while they are still small. This ensures there aren't any untreated issues lingering in your mouth that can lead to a big problem down the road. Although you probably never expect one to happen to you, 1 in 6 Americans faces a dental emergency annually. While you can't completely stop one from happening, you can significantly lower your risk of one to ensure your day isn't interrupted by an unplanned dental visit.
4. Start the Year with a Beautiful Smile
Life can get pretty busy right after the holidays, which means appointments with your dentist can be put on the back burner until you have more time in your schedule. Before your days become too hectic, it's best to have a cleaning and checkup. Not only will you cross one thing off your to-do list, but you'll also start the new year with healthy teeth and gums. You can head into 2021 feeling confident about your smile.
Keep your dental health a priority during the year ahead. Your dentist will create the personalized plan you need to maintain optimal oral health.
About Dr. Alan Rauchberg
Dr. Rauchberg earned his dental degree from Temple University in Philadelphia. He also attended the Pankey Institute and Dawson Center. Dr. Rauchberg provides superior services through advanced dental care. If you need a cleaning and checkup, contact our office today to schedule an appointment.