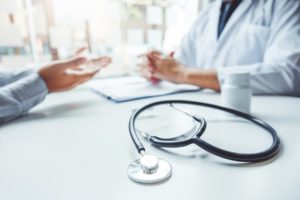 Has your dentist ever discovered something that surprised you during your dental checkups? Maybe it was a small crack you couldn't see or a cavity that hadn't started to hurt yet. Dental professionals are highly trained to spot issues that we can't see or feel, including problems with our overall health. In fact, studies suggest that over 90% of systemic conditions present symptoms in your mouth that your dentist may notice before you do. Here are five health issues your dentist may be able to detect during your dental checkup.
1.) Diabetes
Diabetes lowers the immune system, which puts patients at a higher risk of gum disease. Gum disease is most commonly brought on by poor oral hygiene. However, if your dentist notices signs of gum disease like dry mouth, bleeding gums, or wiggly teeth despite your good dental habits, they may recommend getting a blood test from your primary care doctor.
2.) GERD
Many patients recognize GERD by the uncomfortable heartburn that usually accompanies it. However, the patient may not know that they have this condition if it occurs in their sleep. Regurgitating small amounts of stomach acid into the mouth dissolves the enamel on the back of the teeth and can create small lesions near the throat. While you may not notice these symptoms right away, your dentist will!
3.) Intense Stress
Did you know that stress influences your oral health? Feeling anxious or overwhelmed can trigger a condition called bruxism, or nightly teeth grinding. Since bruxism typically occurs during sleep, it can be difficult for patients to identify on their own. However, your dentist will be able to spot tell-tale signs of wear and tear on your enamel. They may create a custom-made nightguard to protect your teeth and help your jaw relax as you sleep.
4.) Osteoporosis
Osteoporosis doesn't display many outwardly noticeable symptoms, which can make it difficult to detect. Thankfully, routine X-rays during your biannual dental checkups can spot it as early as possible. These X-rays show the health of your oral structures under the gumline, including the jawbone. If the jaw appears to be weakened or thin, your dentist may suggest you see your doctor for osteoporosis.
5.) Heart Disease
A growing body of research is beginning to indicate that gum health and cardiovascular wellness are connected. Experts believe that a common oral health issue known as gum disease can spread inflammation and bacteria throughout the body, increasing a person's risk of heart disease by up to 20%. The earliest stages of gum disease can be reversed, but their warning signs are easy to accidentally overlook. That's why gum health screenings are a regular part of every dental checkup. If your dentist notices swollen, red, and bleeding gums, they may be able to stop the infection before it causes permanent damage.
Your biannual dental checkups are about a lot more than your pearly whites! Seeing your dentist twice a year for checkups and cleanings is great for the health of your smile and body.
About the Practice
Rauchberg Dental Group has been serving smiles of all ages in Parsippany and the surrounding communities with friendly, high-quality dental care for decades. Their talented team of dental specialists aims to meet your entire family's oral healthcare needs under one roof, offering a comprehensive menu of services that includes periodontal therapy, orthodontics, cosmetic dentistry, tooth loss solutions, and much more. They fully understand the importance of the healthy mouth-body connection, and are dedicated to educating their patients on the best ways to maintain optimal oral health. To learn more, they can be contacted via their website or at (973) 718-9887.