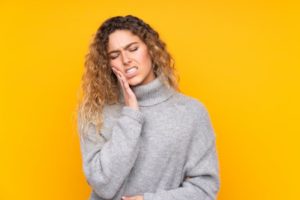 When cold weather arrives, we know it's time to pull out the fleece and wool. You may throw on a sweater or coat to combat lower temperatures, but our bodies aren't the only things affected by the chill in the air.  Increased tooth sensitivity and dry mouth are just two of the issues that many people deal with when winter hits. Keep reading to learn simple ways you can protect yourself from and resolve common winter mouth issues.
Canker Sores
If you've been indulging in hot apple cider or other spice-filled treats this holiday season, you may experience more canker sores than normal. You can choose to avoid acidic or spicy foods altogether in order to help prevent developing these sores. But if you're currently suffering from these annoying little abrasions, try rinsing with a mixture of one teaspoon of salt and a half-cup of warm water. It will clean your current irritations and help them heal faster.
Increased Tooth Sensitivity
Even if you take certain precautions to protect your teeth, cold winds can intensify your sensitivity to cold foods and drinks. An excellent way to help combat this is to brush with a desensitizing toothpaste, which is formulated to protect your teeth from hypersensitivity to foods or drinks with extreme temperatures.
Dry Mouth
If you deal with seasonal allergies or catch the cold that's been going around, a stuffy nose could cause you to breathe through your mouth more often than you normally would. Breathing through your mouth during the winter puts you at risk of having dry mouth. This could lead to issues like dental decay, gum disease, enamel erosion, and dental staining. To combat dry mouth, make sure you drink a lot of water and slow down on caffeinated drinks, as caffeine is a well-known cause of dehydration. Chewing sugar-free gum is another great way to increase moisture in your mouth.
Chapped Lips
Another side effect of dehydration is chapped lips. In order to make sure your skin and lips don't suffer in frigid temperatures, make sure you drink plenty of water and consider using a humidifier at home to give your body some extra moisture while you sleep. And don't forget the SPF 15 lip balm!
The last thing you want to deal with during the holiday season is sensitive teeth or canker sores. If you find that you are suffering from mouth issues and need help to resolve them, don't hesitate to make an appointment with your dentist. The sooner you find solutions for your dental issues, the sooner you can get back to focusing on delicious holiday food!
About the Author
Rauchberg Dental Group offers patients five levels of dental care, including emergency and wellness care. This team of dentists, specialists, and staff provides quality care for every member of your family. If you're dealing with dental sensitivity due to winter weather, don't hesitate to visit the website or give them a call at (973) 718-9887. Your teeth will thank you for it!