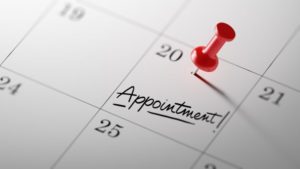 You're in your kitchen preparing dinner when the thought hits you: there's something I forgot! But what is it? You look at your calendar and realize you forgot your dental appointment this morning. Forgetting a dental checkup or cleaning when you don't have any noticeable dental issues is very common. But you don't want to get into the habit of skipping dental visits. Here are a few tips to help you keep up with your dentist appointments.
Cell Phone Reminders
Your dentist might send you a card in the mail or an email to remind you about an upcoming appointment, but it's a great idea to have additional reminders just to be safe. One idea is to set your appointment one month in advance, just to give you the chance to reschedule if you have to. Then, set a reminder or alert in your phone about one week before your appointment and another one at least 24 hours before your scheduled visit. This will help reduce the likelihood that you'll forget your visit or give you the chance to cancel your appointment.
Daily Planners or Desk Calendars
Many people simply use the calendar in their smartphones to remind them of important dates or meetings. But for people who don't use their phones, classic daily planners or desk calendars are a great idea if you already use it often instead of buying something specifically for occasional appointments. You may also consider adding a note about your upcoming appointment a few days in advance, so it's not a total surprise when the actual date arrives. This is perfect if you frequently use a daily planner or calendar that only shows one week at a time.
Electronic Reminders
Popular organizers like Google Workspace or Outlook Calendar are great online tools to help plan your schedule. Their to-do lists and taskbars can track appointments months or even years ahead of time. To be safe, it's best to choose apps that can sync across all of your devices so the dental appointment you have scheduled six months from now will appear in your reminders whether you're on your computer, cell phone, or tablet.
Family Appointments
You may consider scheduling the entire family for dental cleanings on the same day. If you don't have to remember staggered dentist appointments, you will be less likely to forget one. This will save time and the stress of multiple visits to the dentist for each family member. Plus, everyone can work together to remember that date and time of the visit.
Your dental checkups are important to your oral health. It's good to not have any pressing dental issues, but in order to keep things that way, it is best to visit your dentist regularly. A routine cleaning and checkup will help catch any cavities before they cause too much damage. To keep your smile bright and healthy, try to avoid skipping your dentist appointment.
About the Author
Dr. Alan Rauchberg earned his DMD from Temple University and attended the Pankey Institute and the Dawson Center, which are world-renowned for postgraduate dental training. Dr. Rauchberg and his team of dentists [LW1] are committed to the safety of each patient. Meeting or exceeding all CDC, OSHA, and ADA guidelines for dental practices, the office is happy to provide many dental solutions including preventive, cosmetic, and restorative treatments. To learn more about the many services Dr. Rauchberg and his team of dentists offer, visit the website or contact the office at (973) 718-9887.