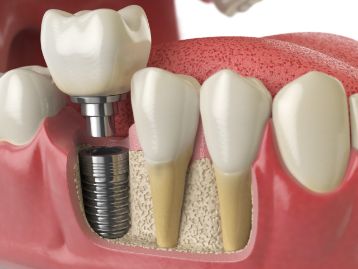 Tooth loss affects an estimated 178 million Americans and can occur for many different reasons. And since each person's smile is completely unique, their treatment plan for replacing their missing teeth is as well. You've probably heard that dental implants are an outstanding solution that look and feel more natural than any other option. But the procedure can be more complicated for some people than others for a variety of reasons. Learn more below about what accounts for more complex dental implant cases.
Multiple Missing Teeth
If you're missing just one tooth, it's pretty straightforward to simply replace it with a single dental implant. If you're missing multiple teeth, there are more options to consider. A dentist will carefully weigh your needs and goals before making a recommendation, which could include an implant-retained bridge or denture. Decisions will also need to be made about where each implant is placed to provide the best final results.
Bite Alignment Issues or an Unstable Temporomandibular Joint (TMJ)
If someone has bite alignment problems such as a deep bite or open bite (where the front teeth don't touch when the jaws come together), or their TMJ isn't stable, a dentist will need to plan their dental implant placement to accommodate these issues. In some cases, orthodontic treatment may be necessary to address these needs and ensure that implants function well over the long-term.
Inadequate Jawbone
Some patients don't have enough bone mass or density in their jaws, which is necessary to provide implants with the strength and support they need to function. However, that doesn't necessarily mean they can't have the procedure done. In many cases, a bone graft can be done beforehand to strengthen the jaw and enable them to successfully get implants. While it does add time to the process (usually several months), it pays off in terms of the lifelong benefits that dental implants provide.
Medical Conditions
During your initial consultation, a dentist will look at your medical history and general health to make sure you'll have long-term success from your implants. Certain conditions such as immune deficiencies, uncontrolled diabetes, and even lifestyle choices such as smoking can affect your ability to heal properly or increase your risk of infection after implant surgery. All of these things will be taken into account before a dentist makes a recommendation.
Dental implants are an excellent way to replace missing teeth. And while some cases are more complex than others, the final results are well worth it!
About the Author
Dr. Alan Rauchberg is an award-winning family dentist with decades of experience. After tooth loss, he often recommends dental implants to improve his patients' oral health and quality of life. And with an in-house specialist that handles each implant surgery, he ensures that they get the best care possible from start to finish. If you're considering dental implants or have any questions, he can be reached via his website.