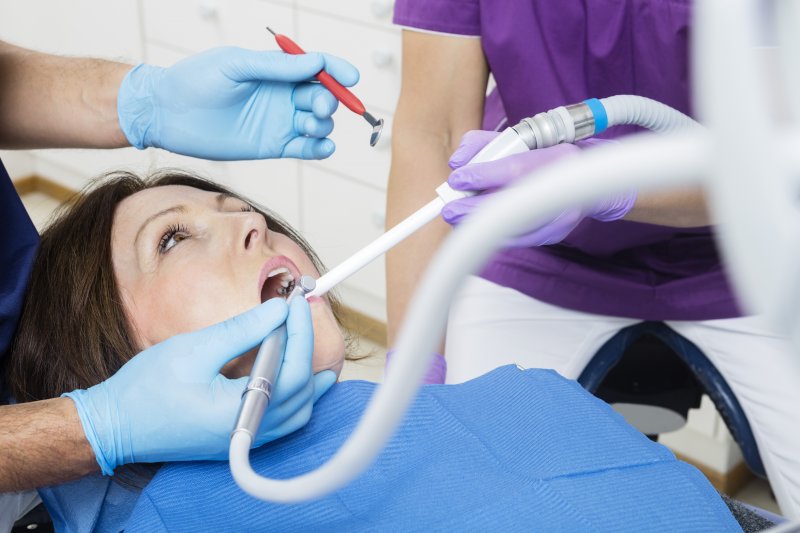 While having your teeth cleaned, you might be tempted to ask your dentist or hygienist about the different types of instruments and equipment used to help you achieve a healthier, more beautiful smile. Some might seem self-explanatory, but others may have you wondering about its real purpose, such as the dental suction device. Is it really only for removing accumulating saliva and blood? Let's spend some time looking into the reason your dentist values this particular instrument and how it's better protecting both you and the staff amid the COVID-19 pandemic.
What is Dental Chairside Suction?
Used by hygienists and dentists for years to easily remove built-up fluids within the mouth (i.e. blood, saliva), dental chairside suction is one of the most important instruments found in a dentist's office.
There are two types of devices: high-volume evacuator (HVE) or low-volume evacuator (LVE). Measured based on how much air is pulled in over a period of time, your dentist might have relied on an LVE in the past. However, with COVID-19 causing dramatic changes to occur within the dental industry, most are trading them in for an HVE.
Why Is It Important?
During any type of dental appointment, aerosols are generated when your dentist uses different types of instruments (i.e. a drill). These particles can easily travel from you to a staff member because of the close proximity in which the dental work must be completed. While some particles can fall immediately to the floor, most do not and can remain airborne for more than an hour. As a result, they can infect your dentist or hygienist, leading to serious illness.
COVID-19 poses a serious threat right now because of its easy transmission via touch or aerosols. To reduce the risk of potential infection, your dental team will not only wear personal protective equipment (PPE), but they will also use high-speed evacuation to minimize aerosol contamination. This will allow for the removal of harmful aerosols before they ever leave your mouth.
What Other Safety Measures is Your Dentist Taking?
Apart from improving the power and effectiveness of various dental tools, your dentist is also implementing additional protocols such as:
Daily temperature checks of staff when arriving at work
Requiring all team members to change into and out of work clothes at the office
Practicing social distancing
Installing HEPA Air Filtration to improve air quality within the office
Establishing a virtual waiting room for patients to remain in their vehicles before their appointment
Knowing your dentist has your best interest in mind is a reassuring thought. Should you have questions about the various safety guidelines, make sure to contact a member of the dental team to inquire about what you can expect before your next appointment.
About the Author
Dr. Alan Rauchberg graduated from Temple University in Philadelphia with his DMD. As the owner of Rauchberg Dental Group, he and his team are committed to providing patients with first-rate care using only the safest, most effective instruments and equipment. With COVID-19 remaining a threat at this time, he relies on devices such as dental chairside suction to reduce the risk of contamination as well as the potential spreading of harmful bacteria and viruses from patient-to-staff. To find out what else he is doing to ensure your health and safety during your next appointment, visit our website or call (973) 334-3777.