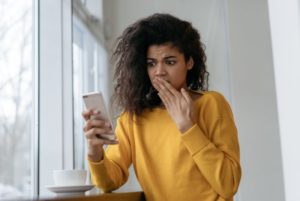 Have you been sheltering in place while you experienced a dental emergency? Even though it may be tempting to try to wait out the pandemic to go see an emergency dentist, that's likely not the best decision for your oral health. When left untreated, urgent oral health problems can cause permanent damage, which is why it's important to act fast. Read on for four signs that you should visit your emergency dentist now instead of trying to wait out the pandemic.
Your Permanent Tooth is Loose
If your permanent tooth feels loose and like it's about to fall out, it's a good sign that there's an underlying problem that has progressed to become more severe. As an adult, your teeth have properly formed so you can easily eat, speak, and chew your food. When one of them is loose, it could be a sign of a few different problems, including:
A dental injury or accident
Progressed gum disease
Localized infection
When you visit your emergency dentist, they'll examine X-rays of your mouth and conduct a visual inspection to determine which one of these problems is the underlying issue and develop a treatment plan to prevent it from spreading or getting any worse.
You Have a Severe Toothache
Severe toothaches are a common sign of a tooth infection, which occurs when harmful oral bacteria gain access to the inner chamber of your tooth and agitate and infect the pulp. This is a clump of nerves and soft tissues that can radiate pain when it's compromised. For this situation, it's likely that you need an urgent root canal in order to save your natural tooth and prevent the infection from spreading to surrounding areas of your mouth.
You Have Facial Swelling
Many patients aren't aware that facial swelling is another common sign of a progressed tooth infection. It can also be caused by dental trauma as well. You can place a cold compress on the area for 10 minutes on, 10 minutes off, for up to an hour to reduce the puffiness and take an ibuprofen if you're in pain. It's important to visit your emergency dentist as soon as possible to figure out the root of your problem and have it treated.
You Have an Oral Sore That Won't Heal
Sores on your lips and tissues inside your mouth that don't heal within two weeks can be a sign of oral cancer, which is important to catch and treat as early as possible. If you notice any white or red patches in your mouth or any other abnormalities that don't go away within two weeks, it's important to schedule an appointment with your emergency dentist to get them checked out.
These are just four signs that you have a dental emergency on your hands. A good rule of thumb is that if you're experiencing any pain or out-of-the-ordinary symptoms, it's likely a result of your body trying to let you know that something's wrong and requires immediate attention. Plus, during COVID-19, dental practices are stepping up their hygiene and sanitation methods to ensure that their staff and patients remain safe and healthy.
About the Author
Dr. Alan Rauchberg has been practicing dentistry for decades and has completed a one-year general residency at MCP hospital in Philadelphia. He has also attended two of the most prestigious postgraduate dental training programs in the nation to sharpen his skills and better serve his patients. With years of experience and specialized training, he's able to provide his patients with fast and effective emergency dental care so they don't have to spend the day in stress or pain. For questions or to schedule a virtual emergency consultation, visit Rauchberg Dental Group's website or call 973-334-3777.