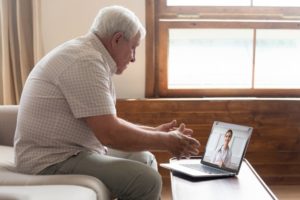 Professionals providing digital healthcare via virtual consults isn't a new phenomenon, per se, but it is something that has become more popular and widespread since the start of the COVID-19 pandemic. In an effort to limit the number of people visiting practices for dental care, dentists around the country have cut down their treatments to only offering emergency care. This is in an effort to reduce the influx of patients heading to already overwhelmed local ERs and make sure that those patients with dental emergencies are getting the specialized care they need without putting their health at risk. Read on to learn how virtual consultations are helping to flatten the curve and what exactly they are.
What is Digital Dental Care?
Digital dental care, also known as virtual consults and teledentistry, is exactly what it sounds like. Imagine video chatting with a friend online, but it's your dentist instead. You can send them pictures of any out-of-the-ordinary symptoms you're experiencing and describe what you're feeling. Based on their assessment, they can determine whether it's an issue that can be remedied at home, or whether you'll require emergency treatment. From there, they'll either schedule an appointment for you or give you a treatment plan to start from home.
How is it Helping Patients During the COVID-19 Crisis?
Digital dental care is helping patients avoid overwhelmed ERs during the COVID-19 crisis and leaving hospital beds open to patients who may be in dire need of them. If a dental procedure is deemed necessary, they're able to get treated in a less-trafficked and more controlled environment, because dentists are able to sanitize before and after each patient, allowing them to keep their waiting room and treatment area clean at all times.
Screening patients via virtual consults in order to treat dental emergencies also allows patients who come from both metropolitan and rural areas to avoid exposure to a variety of surfaces that could carry germs or illness by having to travel. This greatly reduces patients' risk of becoming sick in order to get the urgent care they need.
What are the Benefits of Digital Dental Care?
Both during COVID-19 and in general, virtual consults provide a variety of unique benefits by creating dental care that's both accessible and easy to use. Here are some advantages of digital dentistry:
It's estimated that 81 percent of Americans have internet access, making digital dental care incredibly accessible for patients who live everywhere.
Follow-up appointments are easier and more cost-effective with virtual consults.
Virtual dental care is now being covered by several dental insurance providers.
Patients can easily send videos or photos of their problems to their dentist for easy assessment.
Dentists are able to prescribe antibiotics or other medications virtually, allowing you to get your oral health back on track faster.
During the COVID-19 pandemic, more dentists are starting to offer digital care in an effort to keep their patients and staff safe and healthy. It's also allowing them to give back to emergency medical providers who are working hard to help their patients overcome this deadly virus. During these uncertain times, there's one thing that you can count on—it's that your dentist will be providing you with the care you need no matter what obstacles are in their way!
About the Author
Dr. Alan Rauchberg has decades of experience helping his patients enjoy healthy and happy smiles. He has completed a one-year residency at MCP Hospital in Philadelphia and is a member of several professional organizations, including the American Dental Association. He has also attended two prestigious post-graduate advanced training institutions to sharpen his skills. For questions or to schedule a virtual consultation for a dental emergency, visit Rauchberg Dental Group's website or call 973-334-3777.