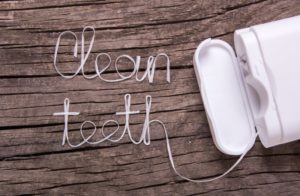 More people are guilty of cutting flossing their teeth from their daily oral hygiene routine than you may think. For some, it can seem like a tedious and inconvenient task that could be pointless. However, the American Dental Association recommends using dental floss at least once a day to clean between each of your teeth to keep your teeth and gums healthy. Read on to learn four ways you can make flossing your teeth easier, faster, and more effective.
Choose The Flossing Tool That's Easiest For You
There are several great dental hygiene tools that you can use to easily floss your teeth. If you have a difficult time maneuvering regular string floss between your teeth in your mouth, you're not alone. That's why people invented easier tools to use, like flossing picks and the water flosser! Flossing picks are a piece of taut floss attached to a piece of plastic with a handle on it, making it easier to grab onto. Water flossers are handheld appliances that help flush the spaces between your teeth with water to remove debris. These are incredibly easy to use and comfortable.
Practice Makes Perfect
Without regular flossing, your technique won't get better. A good way to make this part of your daily routine easy is to set reminders on your phone at a convenient time in your schedule to encourage you to stick with it. The more you floss your teeth, the more effective and faster you'll get at it! Here are some basic instructions to help you get started:
Cut a piece of dental floss that's about 18 to 24 inches long.
Wind it around both of your middle fingers, only leaving a couple of inches between them.
Make sure your floss is held taut using your thumbs and pointer fingers.
Maneuver the floss between each of your teeth, gently gliding it up and down and rubbing it against both side of each of your teeth.
When the floss reaches your gums, be sure to curve it at the base of your tooth to form a "C" shape.
Complete until you've cleaned between each of your teeth.
Ask Your Dentist For Advice & Recommendations
When you visit your dentist every six months for a checkup and cleaning, be sure to ask them "what is the best way to floss my teeth?" They'll be able to provide you with instructions as well as dental hygiene product recommendations to help optimize your oral health and keep cavities at bay. You can also pay attention to how your dental hygienist flosses your teeth towards the end of your routine professional cleaning. There's nothing better than learning from a trained professional!
Track Your Flossing Progress
Some people report that their gums bleed or become sore after they floss. This is completely normal if you haven't been diligently cleaning between your teeth every day. Although it may seem like the last thing you'd do, it's important to stick with your routine. Tracking your progress and seeing how your teeth and gums physically become less irritated and sore can be a great motivator to stick with your routine.
Thorough at-home dental hygiene paired with routine checkups and cleaning from your dentist will ensure that your mouth stays healthy and happy. It can also keep common oral health problems like cavities and gum disease at bay, resulting in fewer uncomfortable and long appointments.
About the Practice
At Rauchberg Dental Group, we have multiple dental specialists on staff to help treat and prevent common oral health problems. With the collective experience between our periodontist, endodontist, orthodontist, and general dentists, our patients are able to receive comprehensive and high-quality dental care under one roof. For questions or to schedule a routine checkup and cleaning, visit our website or call 973-334-3777.