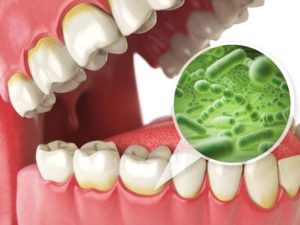 The latest advancements in dentistry allow your dentist to preserve your natural smile for longer than ever by preventing common issues from developing in the first place. You might think your smile is only at risk of tooth decay, but there may be another danger lingering in your mouth. Despite being preventable, gum disease is the leading cause of tooth loss in the U.S. In fact, the Centers for Disease Control and Prevention estimates at least 50% of adults have a form of it. Thankfully, gum disease treatment can restore a healthy smile that lasts.

What are the Risks of Gum Disease?
Gum (periodontal) disease is an infection in the gingival tissue from bacteria found in plaque and tartar buildup. It's easily preventable with the right oral hygiene habits and regular care from your dentist, but it's still a common problem for many Americans.
If the infection isn't treated during the early stage, it will destroy the supporting structures of your teeth, which can ultimately lead to tooth loss. Unfortunately, the complications don't stop there. The bacteria responsible for the infection can enter your bloodstream through the pressure of regular chewing. As it circulates throughout your body, it can lead to several issues, like heart disease, respiratory infections, and even Alzheimer's disease.
What are the Signs of Gum Disease?
The early signs of gum disease (gingivitis) are often missed because they may not seem alarming, like red or swollen gum tissue. You might even see some slight bleeding but attribute it to brushing too hard. At this point, the infection can be treated easily with changes to your oral hygiene habits and a dental deep cleaning.
If the infection progresses in severity, you might see several other symptoms, such as:
Red, swollen, or inflamed gums.
Chronic bad breath.
Bleeding gums.
Bad taste in your mouth.
Receding gum line.
Tooth sensitivity.
Loose teeth.
How is Gum Disease Treated?
Your dentist will recommend a deep cleaning, also known as scaling and root planing. Your dentist uses a special dental tool to clean the gingival pockets to remove plaque and tartar. The roots of your teeth are smoothed to discourage future buildup while also allowing the gum tissue to reattach to your teeth. You might need more frequent cleanings and checkups to monitor your gum health.
Depending on the severity of the infection, you might need additional treatments, like antibiotics or another procedure.
Save Your Smile from Gum Disease
Although gum disease is common, you can prevent it. Besides brushing your teeth twice per day, don't forget to floss every night before going to bed. With the right care at home and from your dentist, you can ensure your smile lasts for a lifetime.
About Rauchberg Dental Group
Rauchberg Dental Group treats patients of all ages, even adults who have complex oral health needs, like gum disease. Our team is specially trained to stop the spread of the infection and repair any damage it has caused. If you have signs of gum disease, don't wait. Contact our office today for an appointment.