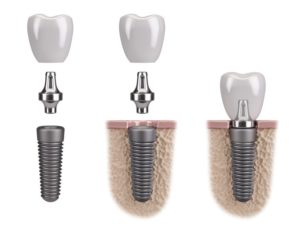 If you're thinking about getting dental implants to replace your missing teeth, you're likely already aware of the many benefits they offer: better oral health, long lifespan, and more security—just to name a few! But do you actually know what the process will be like? Or what the parts of a dental implant are? Understanding this information will help prepare you so that you have fewer surprises during your treatment. In this post, you'll learn about how dental implants are placed and what role each of the parts plays.
Post
When you and your dentist have determined that dental implants are the right choice for you, they will surgically insert an implant post, or a titanium screw, into the missing tooth's socket under the gumline to replace the root. Just like its natural root counterpart, the post stimulates the jawbone to grow and surround it, a process called osteointegration. This is what gives dental implants their firm, secure foundation. It can take several months for the post to become fully fused with the jaw bone. Although this part of the dental implant isn't visible, it plays a critical role for the replacement's effectiveness and longevity.
Abutment
Once the bone and tissues have healed and bonded to the post, the abutment is placed to connect the post to the dental restoration that goes on top later. This small metal attachment piece typically protrudes a little out of the gums. There are several kinds of abutments, and the type you need depends on the restoration that will be used. Once the abutment is set, your dentist will take impressions of your mouth to create your custom dental prosthetic. While you wait for the restoration to be crafted, they may place a temporary one.
Restoration
When your restoration is completed, you return to your dentist's office so that they can attach it to the abutment of the dental implant. As the visible part of the replaced tooth, the restoration can be any of three types: a dental crown for a single missing tooth, a dental bridge for multiple missing teeth in a row, or a denture for all missing teeth in an arch. Because of advancements made in materials over recent years, you can rest assured that your dental implants will be topped with realistic, durable restorations that last for many years.
In the end, choosing dental implants to address your missing teeth will give you more than the minimum, surface-level prosthetics that other replacement options offer. You get the entire package for a complete restoration of the teeth you lost. Now that you know the process and parts of a dental implant, you can move forward with treatment with confidence, knowing what to expect and looking forward to a full happy, healthy smile again.
About the Practice
At Rauchberg Dental Group, there is no shortage of expertise for patients in the Parsippany area to access. With specialists in periodontics, orthodontics, endodontics, as well as general dentistry, they can meet all your dental needs in one convenient location. Plus, they can treat patients of all ages, even young children. To schedule an appointment with them, call (973) 334-3777 or click here.