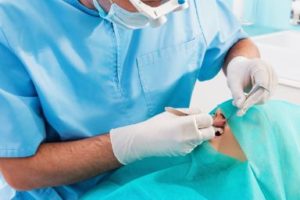 These days, everyone is busy, which makes convenience a top priority. When it comes to getting high-quality dental care, it makes sense to visit a practice that has multiple specialists all in one place. Keep reading to find out how you benefit from having access to a full team of specialists across a variety of fields of dentistry. And, if you're missing teeth and interested in dental implants, you'll also learn why it's so important to have a surgical specialist (or implant dentist) perform your implant procedure.
Why Is It So Important To See a Surgical Specialist For Implants?
If you want dental implants, it's very important to see a surgical specialist such as an oral surgeon or periodontist (instead of a general dentist) for a couple of reasons:
Although an implant procedure is done in-office and usually takes just 1-2 hours, it's still considered a surgery. With any surgery, no matter how minor, there are always inherent risks involved. These risks are best managed by a specialist who received advanced training and completed a surgical residency.
Dental implants are an investment that can last a lifetime, so it's especially important to make sure that the procedure is done right the first time.
The success rate for implants is quite high, but that actually depends on who performs the procedure. In fact, a recent study published in the Journal of the American Dental Association found that the success rate for implants placed by a specialist was 95-97%. However, that dropped to just 82% for general dentists.
The Advantages of Multiple Specialists
You and your family will have changing oral health needs as time goes on, so you'll make life a little easier by going to just one practice. It's a great way to save yourself the hassle of driving all over town!
Not only will you get the best care possible, but more dentists also allow for expanded office hours for added convenience. And, if you decide you want to straighten your teeth or you develop gum disease that needs special therapy, you can stay with the same healthcare providers who already know you and understand your dental history.
In addition to general dentists, here are some of the specialists you'll want to look for in a multi-specialty practice:
Oral Surgeon – In addition to completing dental school to get their D.D.S. (Doctor of Dental Surgery), oral surgeons also complete an intensive 4-6 years of additional medical training to get their M.D. (Medical Doctor) as well.
Periodontist – Periodontists are experts in gum health and also complete a surgical residency that allows them to provide outstanding implant dentistry.
Endodontist – Endodontists are root canal specialists who undergo extensive training to handle even the most complicated cases with ease.
Orthodontist – Orthodontic treatment can be life-changing for both teens and adults. It's worth it to see an expert who pursued years of additional training after dental school.
By finding a multi-specialty office and getting your care from experts in their field, you and your family will enjoy a lifetime of great dental care!
About the Author
Dr. Matthew Moy is an oral surgeon and implant dentist who graduated from Columbia University College of Dental Medicine. He's proud to work alongside several specialists in his practice that make it easy for his patients to get seamless dental care for all their needs. If you have any questions about dental implants or other types of dental care, he can be reached via his website.