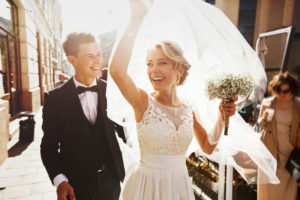 Summer is wedding season! Are you saying "I do" this summer? If so, congratulations! Even if you're just going to be a guest at a friend or family member's wedding, you have a lot to look forward to. Still, if you have serious aesthetic flaws in your smile, you might be a little apprehensive about all the cameras that you know are going to be at the wedding. Fortunately, your cosmetic dentist in Parsippany offers a few treatments that can transform your pearly whites before the big day.
Teeth Whitening
Coffee, red wine, and other foods and beverages naturally cause teeth to lose their luster over time. Folks who smoke or who are genetically predisposed to yellow tooth enamel might be especially self-conscious about the color of their chompers. Professional teeth whitening quickly and safely removes even deep-set stains and can whiten teeth beyond their natural color.
Your dentist offers a couple of different whitening options:
Zoom! in-office whitening only takes about an hour. During the procedure, your dentist applies a special bleaching gel to your teeth. A light activates the gel, causing it to penetrate your teeth and destroy stains. In a single appointment, your smile could become up to eight shades brighter!
At-home whitening is a great option for folks who prefer a more gradual option. Using custom trays and a strong bleaching gel, you can fight stains in the comfort of your own home. You might start to notice results right away, but it usually takes about two weeks for at-home whitening to produce maximum effects.
Porcelain Veneers
What if the flaws in your smile go beyond mere stains? You may want to ask your Parsippany cosmetic dentist about porcelain veneers. These ultra-thin pieces of porcelain are custom-made for your teeth and are able to conceal a range of aesthetic issues, including discoloration, cracks and chips, minor misalignment, teeth that are too small, and more. Veneers are quite tough, and they're resistant to stains; you can expect them to last for 10 – 15 years before you need to get them replaced.
If you'd like veneers, you'll need to start the process at least a few weeks before the big day because the treatment requires that you attend at least two appointments with your dentist. At the first appointment, your dentist will prepare your teeth and take some impressions of them. Then, a laboratory will create your veneers. When your new tooth covers are ready, you'll come in for your second appointment so you can get them installed.
Don't resort to Photoshop to make your teeth look good in pictures of your Big Day. Instead, visit your cosmetic dentist and ask how you can achieve a beautiful, radiant smile in real life.
About the Author
Dr. Alan Rauchberg is proud to lead the team of talented dentists in our office. He earned his DMD from Temple University, and he has been pleased to help patients enjoy the benefits to healthy, beautiful smiles ever since. If you'd like to speak to him about transforming your smile before the Big Day, contact our office at 973-718-9887.