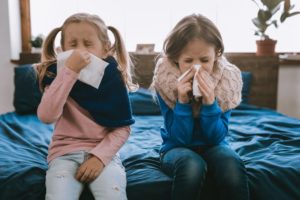 February is National Children's Dental Health Month! And while we're in the midst of winter, there's no better time to focus on keeping your little one's smile healthy. With all the coughing and sneezing that comes with this time of year, many parents unknowingly put their child at risk of numerous oral health issues. Thankfully, a few simple precautions and healthy habits can go a long way in keeping that precious smile safe if they get sick. Here are the best tips for protecting your child's teeth during cold and flu season.
Tip #1: Don't Slack Off on Brushing and Flossing
There's no doubt that your child needs to rest when overcoming a cold or the flu. However, that doesn't give them a free pass to skip their daily dental hygiene! In fact, brushing and flossing are especially important when your child is sick, since this will help clear away all that extra bacteria in their mouth and help them feel more refreshed.
Tip #2: Don't Ignore Dry Mouth
Whether it's from the cold winter air, nasal congestion, or medicine to treat that nasal congestion, there are plenty of ways your little one may end up with dry mouth. Not only is dry mouth uncomfortable, but it allows plaque and bacteria to build up quickly, thus dramatically increasing risk of tooth decay. Make sure your child drinks plenty of water while they're sick to help keep cavities at bay and speed up the recovery process
Tip #3: Be On the Lookout for Sugary Medicines
When a bad cold or flu hits, cough syrups and throat lozenges are usually a must-have for keeping symptoms under control. Unfortunately, many medicines made for children are brimming with sugar. What's more, since these medicines coat your child's teeth in sticky, sugary residue, they drastically increase their risk of cavities. To protect your child from tooth decay while treating their sickness, have them wash down their medicine with water or try sugarless alternatives.
Tip #4: When They Feel Better, Replace Their Toothbrush
Once your child has recovered from their cold or flu, make sure to replace the toothbrush that they had been using. While the chances of reinfection are very low once your little one has recovered from their sickness, a damp toothbrush is the perfect place for bacteria to live and grow. It's best to throw it out and give them a new one just to be safe.
Don't put your little one's smile in danger while you treat their cold or flu! Instead, remember these easy but effective tips to keep their oral health on track all year long.
About the Practice
Rauchberg Dental Group has been caring for the smiles of Parsippany for over 50 years! With state-of-the-art equipment and a family-friendly office, they strive to make patients of all ages feel at home as soon as they walk through their doors. Their team of highly trained specialists will always take the time to get to know you as they help you overcome practically any oral health issue! They have years of experience caring for young patients and would be thrilled to make sure your little one's precious smile stays healthy as it develops. To learn more, they can be contacted via their website or at (973) 718-9887.