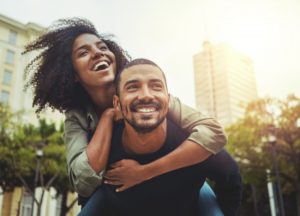 Valentine's Day is almost here! Are you ready? Whether you're going out on a first date or have been dating your special someone for a while now, you want to look and feel your best. However, with so many dating tips out there, it can be overwhelming trying to figure out just how to do that! Thankfully, research suggests that the answer could be as easy as brightening your smile. Read on to find out how a professional teeth whitening treatment can help you ace your Valentine's Day date.
Science & Studies of Smiling
Everyone knows that smiling will make you look friendlier and more approachable. However, that's not all showing off your pearly whites does! Decades of research on smiling indicates:
Smiling makes you feel confident: The act of smiling releases feel-good chemicals in your brain, which sparks feelings of self-confidence, happiness, and relaxation. If you're feeling nervous, try smiling to give your mood a quick boost!
Smiling is contagious: People have a natural instinct to return a smile with one of their own, which sets off the same chemical reaction and positive feelings. Hopefully, the more often you smile at someone, the more they'll associate you with these good feelings!
Smiling says a lot about you: Countless studies show that participants consistently rate people with good teeth and nice smiles as more confident, trustworthy, healthy, and successful.
Smiling in the Dating Scene
So how does the science of smiling play out in the world of dating? In a 2007 study called "The Impact of Whiter Teeth on Key First Impressions," 59% of participants were perceived to be more outgoing after having their teeth whitened. In 2013, a different survey conducted by the dating site Match.com looked into just how important the appearance of teeth was to single, dating adults. The survey found that 58% of men and 71% of women ranked teeth as the most important asset a date can have. Things like grammar, hair, clothes, nails, and tattoos all came in second! In yet another survey conducted by Kelton Research in 2012, 40% of participants reported that they wouldn't go on a second date with someone who had bad-looking teeth.
How Professional Teeth Whitening Can Help
Brightening your smile could give you the boost you need to ace your date. However, with Valentine's Day right around the corner, there's not much time left to remove that yellow tinge from your pearly whites! Try as you might, all the frantic brushing and flossing can't remove that enamel discoloration in time. Thankfully, an in-office teeth whitening treatment from your Parsippany cosmetic dentist certainly can! In as little as a single quick and easy appointment, they can safely and effectively remove years of stains from your teeth. You'll be able to enjoy a dramatically brighter smile in time for your big date!
Don't let yellow teeth hold you back from finding "the one!" Talk to your dentist today about your teeth whitening options so you can dazzle your date with a gleaming smile.
About the Practice
At Rauchberg Dental Group, we're proud to help the smiles of Parsippany and the surrounding communities look just as good as they feel. Alongside our comprehensive menu of preventive care and restorative dentistry, we offer a variety of cosmetic services to improve practically any dental imperfection. If you're interested in teeth whitening, we provide both in-office treatments and take-home kits so you can brighten your smile in a way that works best for you. To learn more about teeth whitening, we can be contacted via our website or at (973) 718-9887.