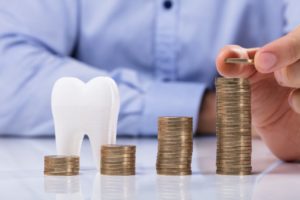 You pay for your dental insurance every month and you know it's important to have, but are you making the most out of your investment? Most people are confused by dental insurance, and as a result, end up avoiding or overpaying for the care they need. Thankfully, understanding a few basic terms and concepts can help you save money while keeping your smile healthy! Your Parsippany dentist shares five practical ways to maximize dental insurance.
1.) Remember the 100-80-50 Rule
While every dental insurance policy is slightly different, most follow the same structure of coverage for certain types of care:
Preventive care like checkups, cleanings, and routine X-rays are usually 90-100% covered.
Basic treatments such as gum disease treatment and fillings are typically covered at 70-80%.
Major procedures including dental crowns and dentures are mainly covered up to 40-50%.
2.) Ask for a Pre-Determination of Benefits
Before getting dental care that goes above and beyond a simple dental checkup and cleaning, it's a good idea to ask your dentist for a pre-determination of benefits. They'll submit an estimate of the cost of your treatment to your insurance company, who will process it and return a statement that breaks down what your policy covers. This way, you can avoid any unexpected unpleasant surprises when the time comes to pay for your dental care.
3.) Understand What Costs You're Responsible for
There are a few costs you are responsible paying for out of pocket, like:
Deductible: This is how much you'll need to pay for your dental care before your insurance starts to cover the cost of your treatments with the 100-80-50 structure.
Premium: You'll need to pay a certain amount every month, quarter, or year to keep your insurance coverage active.
Copay: Each time you visit your dentist, you'll need to pay a small set amount when you check in before your appointment.
4.) Don't Let Your Annual Maximum Go to Waste
Once you pay your deductible, your dental insurance policy will begin paying for your treatments according to your plan's specific coverage. The most amount of money your insurance will cover for your care in a year is called your annual maximum. When the year ends, your deductible is reset and whatever you didn't use of your annual maximum will expire. To keep your benefits from going to waste, make sure you get the dental care you need before the year ends after you've met your deductible.
5.) Take Advantage of Dental Checkups
Almost every dental insurance policy covers the cost of two dental checkups and cleanings twice a year. These quick, simple, and affordable appointments are the best way to treat oral health issues as early as possible or prevent them from developing in the first place. If you wait to see your dentist until your teeth hurt, you'll likely need to pay for more expensive treatments that could have easily been prevented!
When you maximize your dental insurance benefits, you can save a lot of time and money while maintaining great oral health. If you'd like to learn more about making the most of your benefits or other ways to pay for your dental care, don't hesitate to give your dentist a call.
About the Practice
Rauchberg Dental Group is proud to help the smiles of Parsippany and the surrounding communities achieve and maintain optimal oral health for life. Dr. Alan Rauchberg and his team of experienced specialists provide a wide range of services so your family can have all their dental needs cared for under one roof. They'll help you maximize your dental insurance or offer financing options through CareCredit to make your treatment as affordable as possible. To learn more, feel free to contact them via their website or at (973) 718-9887.