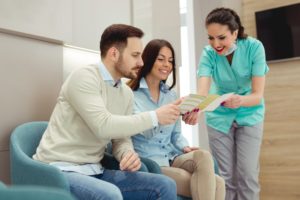 If someone told you that going to the dentist more often could cost you less money later on, you might assume they were pulling your leg, but it's true! Routine dental visits can minimize the need for extensive, costly treatments down the road. This is especially true if you have dental insurance, as your unused benefits will disappear once the year ends. To save money on dental care, continue reading to learn five reasons why regular checkups can save you money. You'll discover why, when it comes to dentistry, an ounce of prevention is truly worth a pound of cure!
1. Spot Cavities Early
Contrary to popular belief, most people don't feel cavities until it has done serious damage. By that point, you might need a more complex (and expensive) procedure, like a crown or root canal, instead of a simple filling. At your dental checkup, your dentist can detect cavities while they're still small and easy to treat.
2. Screen for Oral Cancer
Your dentist will also examine your mouth for lumps or other suspicious areas that could indicate oral cancer. As with any type of cancer, early detection is crucial for successful treatment.
3. Prevent Gum Disease
Gum disease is the leading cause of adult tooth loss in the United States. Like tooth decay, you often don't notice it until it has reached the advanced stages. Not only can gum disease make your teeth loosen and fall out, but it has also been linked to medical conditions such as:
Type 2 diabetes
Heart disease
Osteoporosis
Alzheimer's disease
Pregnancy complications
Some cancers
Luckily, good oral hygiene and routine preventive visits can prevent gum disease.
4. Get a Professional Cleaning
Even if you brush and floss daily, you're inevitably going to miss a few spots. Plaque then accumulates in these areas and hardens into tartar, a hard, cement-like substance that can only be removed by a dental professional. That's where your hygienist comes in. During your dental cleaning, they use special instruments to clear away plaque and tartar that could otherwise contribute to cavities and gum disease.
5. Avoid Dental Emergencies
Undiagnosed dental problems are more likely to cause emergencies like severe toothaches. It's much easier to save yourself time and avoid pain by preventing these issues in the first place with routine care.
When it comes to oral health, prevention is absolutely critical. Coupled with daily brushing and flossing, regular checkups and cleanings are the foundation a lifetime of healthy smiles!
About the Practice
Rauchberg Dental Group is proud to help the residents of Parsippany, NJ and the surrounding communities keep their smiles healthy. They have a team of specialists, allowing you to conveniently meet all of your dental health needs under one roof. Their friendly team members can help you maximize your dental insurance and even offer affordable third-party financing options. To learn more about how to save money on dental care, visit their website or call them at (973) 718-9887.