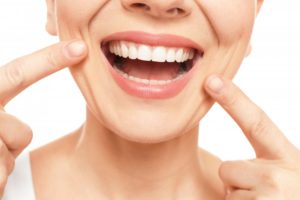 Every time you see yourself in a photo, you cringe a little at the sight of your crooked grin. You'd love to straighten them, but is there any way to straighten teeth without having to get braces? Actually, there's two solutions you can choose from: Invisalign and porcelain veneers. Both are great, but which is actually the best for you? Here are the pros and cons to consider when your goal is a more dazzling smile.
What are Porcelain Veneers and Invisalign?
A thin piece of porcelain that's bonded to the front of the tooth is called a veneer. They can make your pearly whites appear straighter and, as a side bonus, will also cover up other cosmetic problems like stains and cracks.
Invisalign is usually offered as an alternative to braces. You'll wear a series of see-through aligners that'll gradually push your teeth into place. They can be removed so that you can brush normally and eat whatever you'd like.
What are the Pros and Cons of Porcelain Veneers?
If you're looking for a fast solution, veneers definitely have an advantage over Invisalign as they can be placed in as little as two appointments. They'll also address issues like misshapen teeth and a wide variety of other cosmetic flaws, whereas Invisalign can only correct a tooth's position.
However, to get veneers, a small amount of enamel is removed; this might weaken your tooth and can sometimes leave it vulnerable to decay. Also, veneers only cover up crooked teeth without actually correcting them. That means it's not really a suitable treatment if there are serious orthodontic issues.
What are the Pros and Cons of Invisalign?
Since Invisalign actually straightens your teeth and makes them easier to clean, in the long run they're often better for your oral health than porcelain veneers. They can also correct a wider variety bite and tooth alignment problems. You'll find that over time Invisalign requires less maintenance; you need to get new veneers every 5 to 10 years, but you only need Invisalign treatment once.
Of course, one downside is that said treatment often takes over a year, so you won't see results as quickly. There's also the matter of comfort to consider; you'll feel some pressure the first time you put in your aligners, and while the feeling will eventually go away, it'll come back once you move on to the next aligner.
Despite the fact that they can both be used for crooked teeth, veneers and Invisalign are very different procedures for patients with very different needs. To make the right choice between the two, talk to your dentist about your oral health and the cosmetic goals you have in mind.
About the Practice
At the Rauchberg Dental Group, we have a team of specialists that can provide comprehensive dental care for every member of your family. Whether it's an orthodontic treatment like Invisalign or a cosmetic treatment like porcelain veneers, we'll always make sure you pick the best option for your smile. To schedule an appointment, visit our website or call (973) 334-3777.