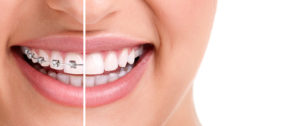 October may make you think of bright orange pumpkins and spooky costumes, but it makes your orthodontist in Parsippany think of something else, too — National Orthodontic Month! The American Dental Association estimates that more than 1.2 million US adults currently wear braces, and that's not even counting the kiddos and teens that are sporting brackets and wires, too. So there's really never been a better time to celebrate!
To honor the month, we want to take a break to talk about braces. What they're for, why they're important, and the options we offer at Rauchberg Dental Group. Yes, we do braces, too!
Why Orthodontics Are Important
Crooked teeth are more than a cosmetic problem. You may be less than reluctant to show off a smile with crowded, gapped, or otherwise misaligned teeth, but the side effects of those issues can actually affect your overall health as well.
Getting braces at any age can help you avoid these consequences of misaligned teeth.
Crowded teeth may be difficult to brush and floss thoroughly, leaving you at an increased risk of getting cavities or gum disease.

Gaps in the teeth can trap food particles, raising the risk of tooth decay.

Nighttime teeth grinding is more likely to occur when the upper and lower jaw do not fit together properly, leaving otherwise healthy teeth worn down or weak.

Misaligned teeth cause pain in the jaw joint (the TMJ). TMJ dysfunction is linked to jaw mobility issues, headaches, ear pain, and teeth grinding.
Your Options in Braces
Today's options in braces are better than ever, offering more affordability and greater choice for adult and child patients alike.
Traditional braces work using metal brackets that are affixed to the tooth surface. Wires threaded through and tightened at interval periods place pressure on different areas of the bite throughout treatment, gradually shifting teeth into the proper alignment. Tooth colored braces are available, too.
Invisalign uses a series of clear plastic aligners to move the teeth into the proper position. Because the aligners are practically invisible, Invisalign is a popular option with image-conscious teens and professional adults.
Scheduling a consultation with your orthodontist can help you decide which option is best for your lifestyle, budget, and timeline.
When Should You Visit the Orthodontist?
Because most dental misalignments are apparent in early childhood, the general recommendation is for children to have an orthodontic consultation around age 7. Orthodontic treatment generally begins between ages 8 to 12.
However, it is never too late to benefit from orthodontic treatment. If you missed the boat on braces as a child or teen, National Orthodontic Month is a perfect time to book a visit with your orthodontist!
About the Author
Dr. Allie DeGeorge is experienced in all phases of orthodontic treatment for children, teens and adults alike. She provides traditional orthodontics, tooth colored braces, Invisalign, and orthodontic appliances at Rauchberg Dental Group. To learn more about braces in Parsippany or to schedule an appointment with Dr. DeGeorge, you are invited to contact the office at  973-334-3777.