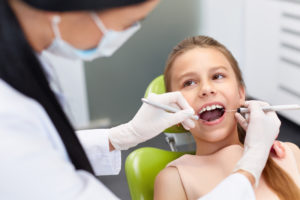 It's August, and we love back-to-school season here at Rauchberg Dental Group. We want your child to have the best year yet — and staying in great health is a crucial part of feeling good and performing their very best. As you get ready to send your little one off for their next school adventure, make sure you're ticking off the marks on the oral health checklist: supplies, sleep, and a dental cleaning in Parsippany!
Follow the Back-to-School Oral Health Checklist
Take time to include these important items on your to do list this month to keep your child smiling big all year long!
#1: Buy the Right Supplies
When was the last time you upgraded your little one's toothbrush? Back-to-school season is a perfect time to get them a new set of bristles. You should be replacing the brush every three to four months, or as soon as it begins to show signs of wear.
While you're at the store, fill your cart with nutritious snacks to spice up their afterschool snack time. Low-sugar items like cheese sticks, fresh fruits, and nuts will fill up your kiddos without filling their mouths full of the simple sugars and carbs decay-causing bacteria love.
You may also want to consider buying your child a reusable water bottle. Staying hydrated throughout the day is as important for their teeth and gums as it is for their bodies. When the mouth is well-hydrated, it produces plenty of saliva — meaning it can more easily wash away the bacteria that causes oral health issues.
#2: Get On a Sleep Schedule
You know sleep is important for your child's growing body, but getting plenty of deep rest at night is also key for their oral health. Kids are just as likely as adults to grind their teeth or clench their jaws during periods of stress or anxiety, and back-to-school season is prime time for bruxism (teeth grinding). The habit can be especially damaging in young smiles, as their tooth enamel has not fully developed yet.
To prevent nighttime teeth grinding, help your little one get back on a good sleep schedule as soon as possible. Start waking up earlier in the days leading up to school's start. To make it easier to fall asleep at night, reduce screen time before bed. The light from televisions, cell phones, and computers can make it difficult for the brain to turn off. Discourage sugar and caffeine consumption in the afternoon for sounder sleep, too.
#3: Schedule a Checkup and Cleaning
There's nothing quite like the feeling after a good dental appointment. Schedule one for your child this month to help them start the year off with a clean, healthy smile! Our friendly team will gently clean away any plaque and tartar that's had the chance to build up since their last visit, and we'll also take X-rays and do a visual exam to check for spots of decay or other issues. Early detection is important for conservative treatment and continued smile health!
Contact Us Today
Even if your little one has already started school, it's not too late to schedule a back to school checkup and cleaning at Rauchberg Dental Group. Clean teeth equal happy smiles that contribute to success in school and in life! Request an appointment with the "dentist near me" you're looking for today.