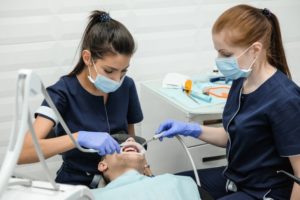 When you visit a dentist, it takes a concerted effort to deliver the care that you need. Any dentist knows that to function at his or her best requires the assistance of a highly skilled, friendly and hard-working staff. Because they are so invaluable to the function of dental practices, the first week in March has been designated as Dental Assistants Recognition Week. As you continue reading, learn 4 reasons to say thank you to dental assistants!
#1 – Preparation and Takedown
Have you ever wondered how the care area is in order and ready to go when you arrive for treatment? It's the dental assistant who has been hard at work to ensure that the space is clean and meets all the COVID-19 disinfection/sterilization protocols. Because of dental assistants, you can rest assured that by the time you enter the treatment space, it has been made afresh.
#2 – Talking with Patients
Before you receive treatment from the dentist, you'll encounter the dental assistant. He or she will discuss your needs, take the necessary X-rays and conduct any assessments the dentist needs. If you're feeling a little anxious about the care you'll receive, the kind smile of the dental assistant can be quite comforting. He or she will also take the time to explain what you can expect from your visit with the dentist so you can be calm and relaxed.
#3 – Assisting the Dentist
During the appointment with the dentist, the dental assistant performs several tasks, which include instrument handling, rinsing and suction, and limiting the spread of bacteria. Additionally, they take impressions of teeth and provide post-care instructions.
#4 – Office Management
Often times, the role of dental assistants extends even further, as many of them are also responsible for ordering supplies, scheduling appointments, submitting claims, billing customers and other administrative tasks. Thanks to their versatility, dental practices are able to run smoothly.
How You Can Honor Dental Assistants
If you want to let your local dental staff know that you appreciate them, here are some simple gift ideas:
Flowers
VISA gift cards
Coffee shop gift cards
Custom water bottles
Lunch catered for the entire team
Subscription to a popular magazine
Tickets to a local performance or special event
There are tons of other ways to show appreciation, so feel free to explore the possibilities. At the end of the day, taking the time to acknowledge their hard work at your next appointment is a sure way to place a smile on your dental assistants' faces!
About the Author
Dr. Alan Rauchberg is a graduate of Temple University in Philadelphia. A consummate learner, he has received advanced postgraduate training from the renowned Pankey Institute and Dawson Center. Dr. Rauchberg also maintains professional affiliation with the Academy of General Dentistry, New Jersey Dental Association and other organizations. Throughout his years of service, he has received great joy from helping patients experience excellent oral health at Rauchberg Dental Group, and he can be reached for more information or to schedule a visit through his website.