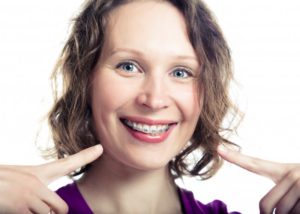 They say that age is just a number, and that's largely true when it comes to orthodontic treatments. More and more adults are deciding to take charge of their smile and improve their oral health through Invisalign or traditional braces. Many young people in high school and college are also undertaking the journey to a straighter, healthier set of pearly whites. No matter how old you are, it's likely that there is an orthodontic treatment that is perfect for your circumstances. Let's take a moment to compare traditional braces and Invisalign. Depending on your lifestyle and personal preferences, one or the other may be a better fit for you.
Invisalign
Many adults flock to Invisalign because they're concerned about aesthetics. Since Invisalign aligners are clear, they allow their wearers to maintain a professional appearance throughout their treatment time. Their removable nature also makes it easy to keep up with oral hygiene, and there are no dietary restrictions that could stop you from enjoying that important lunch date with a potential client.
There is also a special type of Invisalign designed specifically for teens. It's similar to the adult version of the treatment, with the biggest difference being a blue compliance dot on the aligners. The dot helps parents to keep track of whether their teen is wearing Invisalign as much as they should. For young people who want their smile to look as natural as possible throughout treatment, or who don't want braces to show up in their school portraits, Invisalign might be a perfect match.
The only age group that Invisalign is unsuitable for is young children because their mouths are still developing.
Traditional Braces
Modern braces are more comfortable than ever before. Plus, the brackets, wires, and rubber bands come in a broad range of colors. Adults often choose subtle colors, such as clear or tooth-colored wires and brackets, so their treatment doesn't call a lot of attention to itself. Teenagers and children, on the other hand, often have fun choosing bright colors for their brackets and rubber bands, in effect turning their braces into another fashion accessory.
One of the biggest advantages of traditional braces, particularly for teenagers and children, is that they're not removable. Young people who might accidentally lose track of Invisalign aligners will never have to worry about that if they're wearing traditional braces.
Which Is Right for You?
After a board-certified orthodontist examines your teeth and jaw, they'll discuss your treatment options with you. Most people are candidates for either Invisalign or traditional braces, though there are a few severe orthodontic issues that require the use of traditional braces. After you consider such things as your lifestyle, your budget, and your smile goals, you can choose your treatment and get on the path to the healthy, gorgeous smile you deserve.
About the Author
Dr. Allie DeGeorge is the on-staff orthodontist at Rauchberg Dental Group. She has experience in providing orthodontic treatment for children, teenagers, and adults. If you would like to speak to Dr. DeGeorge about straightening your teeth, contact our team at 973-334-3777.