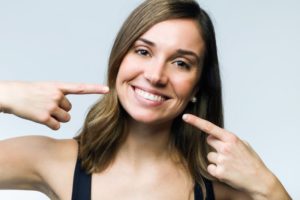 Missing teeth can cause a host of oral health problems, from bone deterioration to TMJ issues and beyond. However, one of their most obvious consequences is aesthetics. Gaps in your smile may cause you to hold back from smiling when you're meeting new people or when one of your friends wants to take a photo of you. Let's talk about how dental implants in Parsippany can restore your smile's appearance and give you the confidence you need to thrive in any social situation.
Dental Implants Deliver Superior Aesthetics
Dental implants are substitute tooth roots that go beneath the gum line. The artificial teeth that go on top of the implants are what observers see. Your implant dentist in Parsippany is focused on creating new teeth that are both functional and natural-looking. In order to achieve this, they take impressions of your mouth, talk to you about what you want your smile to look like, and carefully design implant restorations (a crown, bridge, or dentures) that are indistinguishable from real teeth.
Implant restorations are made of high-quality materials, such as porcelain or acrylic, that even reflect light in a manner that is similar to real tooth enamel. When they are shade-matched to the teeth around them, onlookers may have no clue that your smile isn't 100 percent natural.
To see for yourself how remarkable dental implants can look, search for photos online of people who have undergone the procedure. You'll be impressed by how beautiful and natural their smiles appear! Your dentist may even have a smile gallery of implant procedures that they have performed themselves.
Why Implants Are Better Than Alternative Treatments
Traditional bridges and dentures can blend in well with your smile and deliver a pleasing appearance. However, implant-supported restorations are superior for a number of reasons:
There is a risk that traditional dentures will slip, click, or pop when you're eating or speaking. Such embarrassing mishaps do not occur with dental implants.
If you've suffered extensive tooth loss, bone deterioration in your jaw may cause your face to change shape. Implants help to preserve your facial structure so you can maintain your youthful appearance for as long as possible.
Traditional tooth replacement options often require that you take precautions when you're eating or that you avoid certain foods. Implants are extremely strong and sturdy, which means that you will be able to eat all of your favorite meals in a normal manner. Whether you're going out for a steak dinner with friends or snacking on popcorn during movie night, you can do so without worrying about damaging your smile.
Are you ready to regain your lost smile and get back to feeling like the confident, gorgeous person you are? Ask your dentist whether dental implants are right for you.
About the Author
Dr. Alan Rauchberg, the leader of our team, is an accomplished dentist whose goal is to provide truly comprehensive dentistry to patients. Working alongside the specialists on your team, he has helped many patients to experience the benefits of dental implants. If you are curious to learn how this remarkable procedure could rebuild your smile, contact us at 973-334-3777.