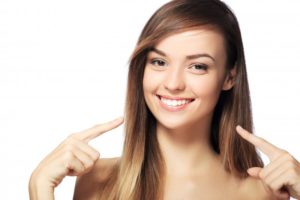 Have you ever watched a movie and found yourself distracted by one of the star's amazing teeth? Or maybe you have a friend who has a radiant smile that has always made you a tad jealous. You don't have to be green with envy anymore. Cosmetic dentistry in Parsippany can transform your pearly whites and give you a Hollywood-ready grin. But what procedure should you get in order to achieve the look you want? Here is a brief guide to some of the most common cosmetic dental procedures.
Professional Teeth Whitening
Professional teeth whitening is faster and much more effective than any of the bleaching products you see on the shelf at the grocery store. With Zoom! in-office whitening, your teeth could become up to eight shades brighter in about an hour! Or, if you would prefer to kick stains to the curb a little more gradually, you can opt for a take-home whitening kit from your dentist that will produce stunning results in about two weeks.
Whitening is the ideal cosmetic treatment for anyone whose daily habits have caused their teeth to become noticeably yellow; it can eliminate years of stains from coffee, red wine, and other dark substances.
Veneers
Veneers are ultra-thin pieces of porcelain that your cosmetic dentist in Parsippany attaches to the fronts of your teeth. They can disguise a range of flaws, including discoloration, cracks and chips, minor misalignment, and teeth that are too small.
Porcelain veneers strong and resistant to stains. With proper care, they can last for 15 to 20 years, making them a long-term solution for anyone who wants a complete smile makeover.
Invisalign
Have crooked teeth or a bad bite? Invisalign may be right for you. This innovative treatment uses a series of clear thermoplastic aligners to gently move teeth into their proper positions. On average, it takes about a year for Invisalign to complete its job and leave you with a gorgeous, straight smile.
Many adults flock to Invisalign because the aligner trays are so discreet. You won't have to put up with being a "metal mouth." Plus, because the aligners are removable, they make it possible for you to enjoy all of your favorite foods.
Restorations
Do you have old, ugly metal fillings that make you self-conscious about your smile? Or maybe you have a metal crown that annoys you whenever you catch a glimpse of it in photos of yourself. Your cosmetic dentist would be happy to discuss replacing those eyesores with tooth-colored restorations, which blend seamlessly with your natural smile and are strong enough to last for many years.
On the other hand, maybe you have a missing tooth or two and had it replaced with an implant. If the implant's restoration becomes damaged or loses its beauty, your dentist can craft a new one to place it.
Want to own a beautiful, head-turning set of teeth? Cosmetic dentistry in Parsippany can help you reach that goal!
About Rauchberg Dental Group
We have an extremely talented team of dentists in our office, all of whom take great pride in helping patients to achieve healthy, attractive smiles. If you would like to schedule a cosmetic consultation, please contact us at 973-718-9887.