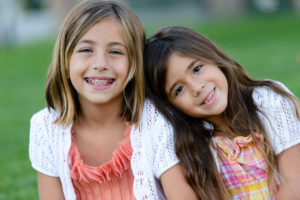 If you are looking for an orthodontist in Parsippany, whether it's for your own smile or your child's, you may be at a loss for where to start. Braces are a big investment, and you want to make sure you entrust the job to someone who's going to get the job done right. Fortunately, friends and families in our area have a place to turn for excellence in orthodontics: to the team at Rauchberg Dental Group!
Dr. Alie DeGeorge provides superior orthodontic care to patients of all ages. Keep reading to find out why she's the best, and why straightening your teeth should be a priority this year. We can't wait to help you or your child smile with total confidence!
What Makes an Orthodontist Great?
There are several things you should consider while you're deciding which orthodontist is best for you or your loved one. Experience, a wide variety of treatments, and patient success stories are a good place to start.
Our orthodontist, Dr. DeGeorge, offers patients all of the above — and then some. She completed each step of her dental education at The University of Pennsylvania, where she received training in the most advanced orthodontic techniques including Invisalign, 3D imaging, TMD, and temporary anchorage devices.
Today, Dr. DeGeorge stays up to date on the latest advancements in orthodontics through her active involvement in the American Association of Orthodontists and the American Dental Association. She is highly experienced in treating patients of all ages, from correcting minor misalignments to achieving the most major bite overhauls.
Straight Teeth Contribute To a Healthy Smile
Many adults think that they can live with misaligned teeth, as long as they aren't too bad. But the truth is, having teeth that line up the way they should promotes better oral and overall health. That's because straight teeth are easier to brush and floss thoroughly, reducing your risk of gum disease and tooth decay. Proper bite alignment also protects the TMJ, which may undergo significant stress making adjustments for crooked teeth. Investing in braces is a smart move at any age.
Your Options at Rauchberg Dental Group
We are pleased to offer patients several options in orthodontic treatments, including…
Traditional metal braces: Metal brackets and wires place focused pressure on different areas of the bite throughout treatment.

Tooth-colored braces: Works the same as traditional braces, but using tooth-colored materials for a more aesthetically pleasing effect.

Invisalign: Clear, plastic, removable aligners gradually reposition misaligned teeth using the traditional orthodontic principles of slow movement through continued pressure.

Oral appliances: Retainers, expanders, and cribs can help patients achieve their orthodontic goals alongside, in place of, or after another treatment.
Talk to Your Dentist in Parsippany Today!
If you or your child are in need of expert orthodontic care, look no further than the team at Rauchberg Dental Group. We can't wait to get started on your treatment plan. Go ahead — request an appointment or schedule a complimentary consultation today!