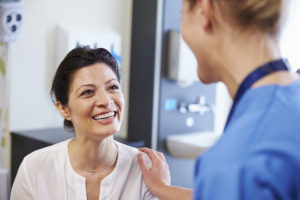 According to the American College of Prosthodontics, roughly 178 million people in the United States are missing at least one permanent tooth. When even one tooth is lost, your incomplete smile often causes you to lose confidence. In addition to the loss of your confidence, your ability to eat and speak are also negatively impacted. Not to mention, your oral health suffers consequences from tooth loss, too. Now, you can replace missing teeth with a permanent solution to regain your smile. With dental implants, you will restore oral functions, health, and your confidence with the most preferred solution for tooth loss. As a dentist for dental implants in Parsippany, Rauchberg Dental Group will help you gain a complete smile.

What is a Dental Implant?
A dental implant is a form of dental prosthetic like none other. Unlike other forms of tooth replacement, dental implants are a lifelong solution to replace missing teeth. When compared to other types of dental prosthetics, implants are the only option that most closely mimic your natural teeth. As a result, dental implants have become the most preferred solution to treat tooth loss, which is why more than 500,000 implant procedures are performed each year.
To benefit from dental implants, you must have healthy gums and bone to ensure the success of the procedure. When performed on the ideal candidate, implants offer over a 95 percent success rate. To begin the process, you will undergo a surgical procedure to implant a biocompatible post into your jawbone. Your jawbone naturally accepts the material, fusing to the implant post to provide a sturdy foundation for the prosthetic tooth.
After your jawbone has healed to the implant post, an abutment is used to allow the gum tissue to heal correctly around the implant. In addition, the abutment will anchor your custom-made crown to the implant post. You will then restore your oral health and regain proper oral functions while you smile confidently with a complete smile.
Learn More about Dental Implants
At Rauchberg Dental Group, we understand that making the choice to choose dental implants is a big decision. To help you better understand how dental implants benefit oral health when treating tooth loss, we invite you to join us at our upcoming seminar. On Tuesday, August 30th, we will be holding a complimentary dental implant seminar to provide the information you need to determine if dental implants are the right option for your tooth loss. We will discuss the benefits of tooth replacement with implants and how the procedure will change your life. Dr. Alan Rauchberg will take the time to answer any questions you may have to make an educated investment in your smile with dental implants.
Regain Your Confidence with Dental Implants
If you are ready to benefit from the best and most preferred solution to treat tooth loss, Rauchberg Dental Group provides the consultation needed to determine if dental implants are right for you. We will help you regain your confidence with a complete smile using dental implants.